Posted by Discount Party Warehouse on 1st May 2021
Unicorns are the perfect party theme for any little girl who believes in magic and the spirit of adventure. With their speed and agility and pure elegance, Unicorns are believed to be gentle and protective creatures and the rainbow colours associated with Unicorns make for a very pretty party theme. Now that you have decided on a magical unicorn theme and invited all your guests, it is time to start planning your decorations, food, party games and favours.
Decorate Your Unicorn Party
Discount Party Warehouse has a great range of Unicorn party supplies. Think pastel rainbow colours – like purple, pink, mint green, pale blue and yellow in balloons, tableware and decorations.
There are many choices when it comes to Unicorn Parties, but it is always best to mix some Unicorn themed party decorations and tableware with plain pastel colours to break up patterns. Our pastel iridescent party range of party supplies will give a magical touch. Add some iridescent foil curtains as a backdrop and you are halfway to your Magical unicorn land. Adding some plain tableware and decorations is more cost effective and perfect for larger party groups and you will definitely get more bang for your buck.
Look out for our Magical Unicorn theme party supplies to decorate your party. From magical "One Of A Kind" table centrepieces to Wall decorating kits that can double as a photo booth back drop. Add a pastel balloon garland over the top of the wall decorating kit to make a beautiful back drop to your party table or photo wall. Or take a peek at our Unicorn sparkle range, which is simple and elegant, with its' dancing gold unicorn and pastel rainbow stripe background it is a sure to impress your guests. Hang some Pink Star Swirls from the ceiling with fishing line to create sparkle and colour.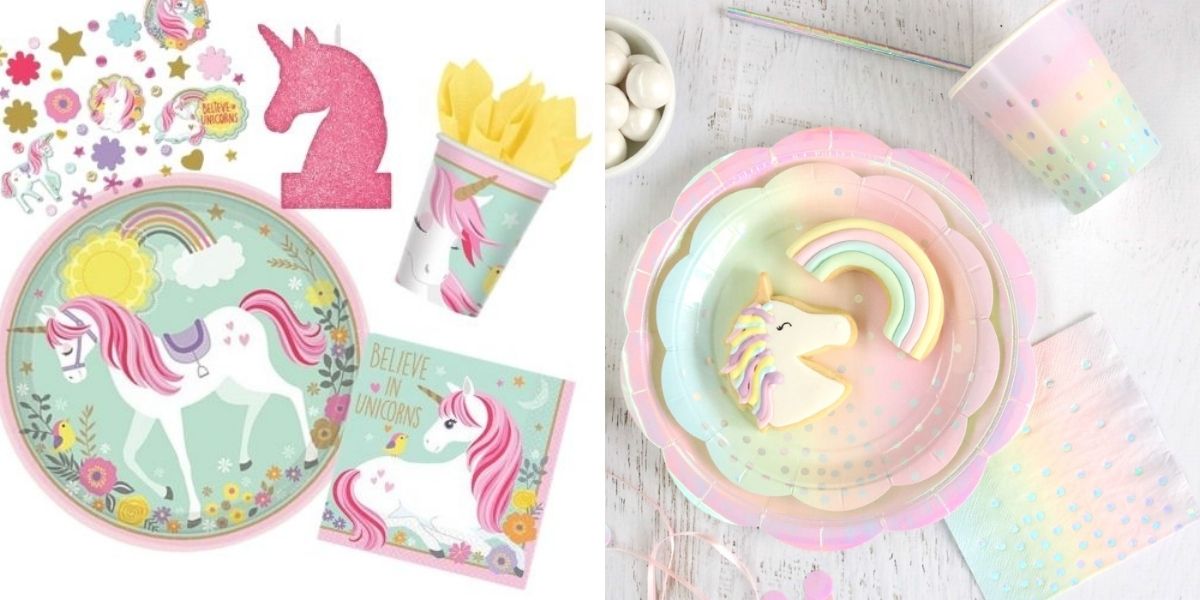 Unicorn Balloons
From Unicorn supershapes and airwalkers to bouquets of pastel balloons and airfilled balloon garlands, Discount Party Warehouse has everything you need to magically decorate your party. Balloons are the most cost effective way to decorate your party and take up no space in the garbage when their party days are over. Most of our latex balloons now are biodegradable and perfectly safe to put in the general waste bin.
Create your own large floor standing balloon bouquet to place in the corner to add colour or create smaller bunches to place around the party tables. Everyone loves balloons because they give so much colour and life to any party. Grab one of disposable helium tanks to do your own balloons at home or come into store and organise one of balloon specialists to create something really unique and customised. Please note we do not deliver inflated balloons but if you book your balloon order in advance it is a hassle free pick up on your party day.
Make Your Own Unicorn Putty: This is a great party activity and will give your guests something to take home to enjoy your magical unicorn party even longer. We recommend adults make the putty as it does involve mixing chemicals but it is a great one for the kids to watch in awe. The ingredients below is enough to make up 3 different colours of putty which can be mixed to create a magical unicorn rainbow putty.
You will need:
2 Cups white craft glue
1 & 1/2 Teaspoons Baking Soda
¾ Cups water
6 Cups Shaving Cream
4 ½ Tablespoons contact solution (must include boric acid and sodium borate to interact with glue and create fluffy effect)
Pink, purple and blue food colouring.
Method:
Add ¾ cup of white craft glue to a bowl. Add ¼ cup of water and ½ teaspoon baking soda and mix. Add 2 cups of shaving cream and mix. Add your blue food colouring until you are happy with the shade of blue and mix. Now slowly add in your 1.5 Tablespoons of contact solution. It is best to add one tablespoon and start to knead the putty and mix and then add the remaining ½ tablespoon which will decrease the stickiness. Make sure you put oil on your hands to prevent the putty sticking.
Repeat and add Pink food colouring and then repeat again for purple. Once completed mix all 3 colours to create unicorn slime. This can be stored in an airtight container for up to 1 week. As the putty is played with, the colours will mix. The more exposure to air the harder the putty will become.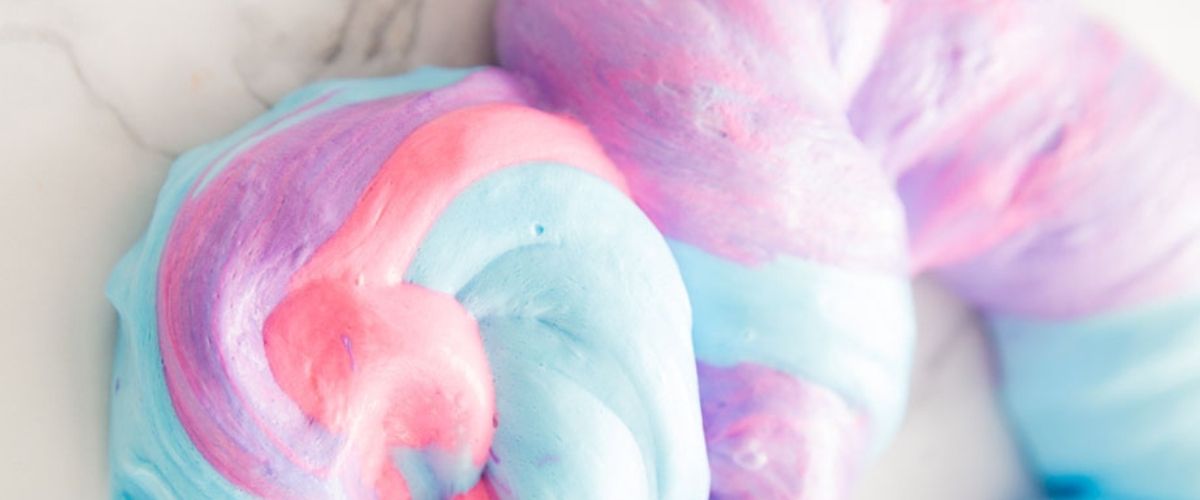 Unicorn Party Games
Discount Party Warehouse has a great range of Unicorn party games, which every little person will love. The traditional pinata is always a crowd pleaser and with our pretty white unicorn pinata will suit your party theme perfectly. Don't forget to stick to your theme with Unicorn party favours or wrapped candy bracelets – all keeping to the pastel colours.
Another great Unicorn party game is pin the horn on the unicorn. It's a must have for your Unicorn party. Pin the included poster onto the wall and Get your guests to take turns being blindfolded. Spin the blindfolded person 3 times and face them in the direction of the poster and get them to attach the horn to the poster. The person who gets the closest to the correct position wins.
Unicorn Party Cakes
After all the games and celebrations, it's time for cake. Whether it's mini unicorn cupcakes or one large unicorn cake, Discount Party Warehouse has everything you need to make cake decorating simple and quick.
Decorate some cupcakes with white icing and sprinkle with Over The Top Rainbow sprinkles to add some magic and colour. Then using our white marshmallows cut them in half diagonally and dip the sticky side into our pink sanding sugars to make the ears and then a simple gold spiral candle for the horn. If you are using a large cake, our Sparkling Gold Acrylic Unicorn Cake Topper is the absolute ultimate. Just bake a standard round cake or buy a plain sponge cake from the supermarket and cover with white icing. Decorate the edge with sprinkles and add the cake topper and you have an instant Unicorn birthday cake.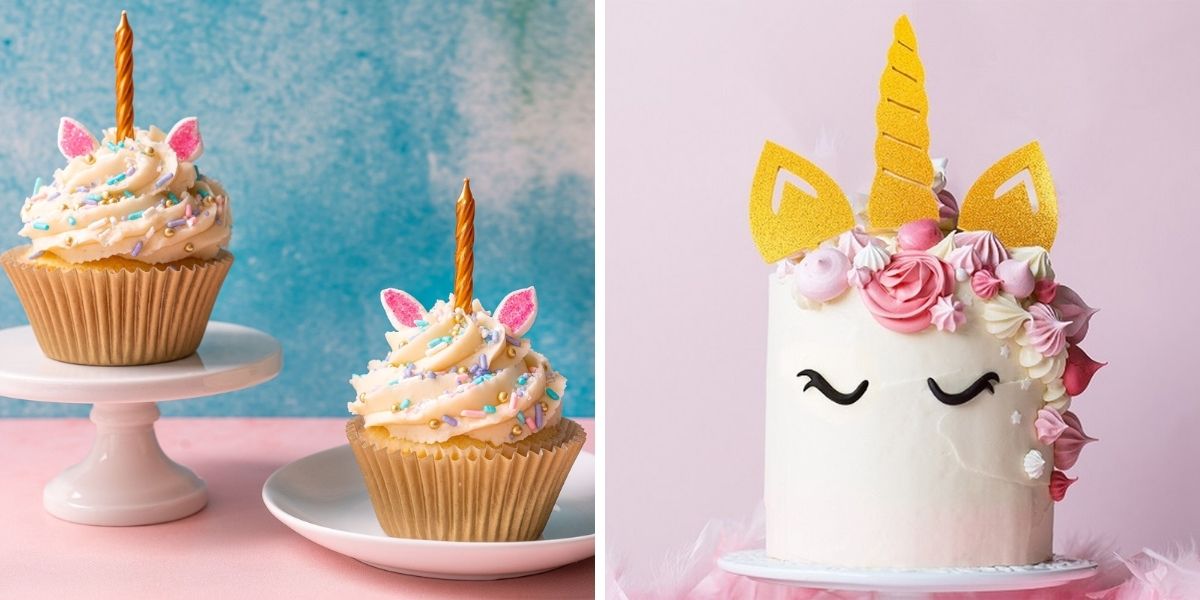 Send your guests home with a special momento.
Make your party last even longer for your guests with a special Unicorn party mix loot bag. Fill with candy watches and love note lollies. Sheets of unicorn stickers or our Magical Unicorn stamp favours are always a hit for your friends to decorate their notebooks and diaries. Everyone loves blowing bubbles – what about some Pink bubbles & wands? Put everything together in a matching re-useable Magical Unicorn favour cup or one of our Unicorn lootbags.
Everyone will love the magic and the beauty at your Unicorn themed Birthday Party. Where imagination and fun can run wild and by the end of your party they will believe Unicorns are in fact, real.