Posted by Discount Party Warehouse on 26th Nov 2021
Balloons instantly transform any event into a party, no matter what the occasion. Whether it's your childs birthday party, baby shower, wedding, engagement party or milestone birthdays, such as 18th or 21st Birthdays, decorating your party with balloons definitely adds the finishing touch. Why not inflate your own balloons at home with our DIY helium balloon tank kit, they make decorating parties on the go so much easier. It's a quick and efficient way to inflate balloons.
Whether you are celebrating outdoors in a park, inside at a function centre or at home, our light weight helium balloon tank kits make decorating a party quick and simple. Available in 30 balloon and 50 balloon kits, they include everything you need to decorate your party with balloons.
What do you get in each helium balloon kit?
30 Balloon Helium Tank Kit
Disposable helium tank
30 x 22.2cm assorted rainbow coloured latex balloons
White curling ribbon roll 40m
50 Balloon Helium Tank Kit
Disposable helium tank
50 x 22.2cm assorted rainbow coloured latex balloons
White curling ribbon roll 70m
Please note balloon size and ribbon length may vary depending on the brand of tank
How To Use The Kit
Remove the helium tank, ribbon and balloons from the box
Cut the ribbon into 1.2m lengths as this will save time when inflating the balloons
Open the valve at the top of the balloon tank in an anti clockwise direction
Place the neck of a balloon over the nozzle and press down. The balloon will start filling with helium
Avoid over filling the balloon as it will cause it to burst (size guide for inflated balloons is on the side of the box)
Knot the neck of the ribbon to avoid helium escaping
Attach the ribbon to the tied knot of the balloon and tie to something heavy to avoid it flying away
Repeat the process with the remainder of the balloons
Close the valve when you have finished inflating your balloons
Tie all the balloons together to a balloon weight and voila you are a party decorator.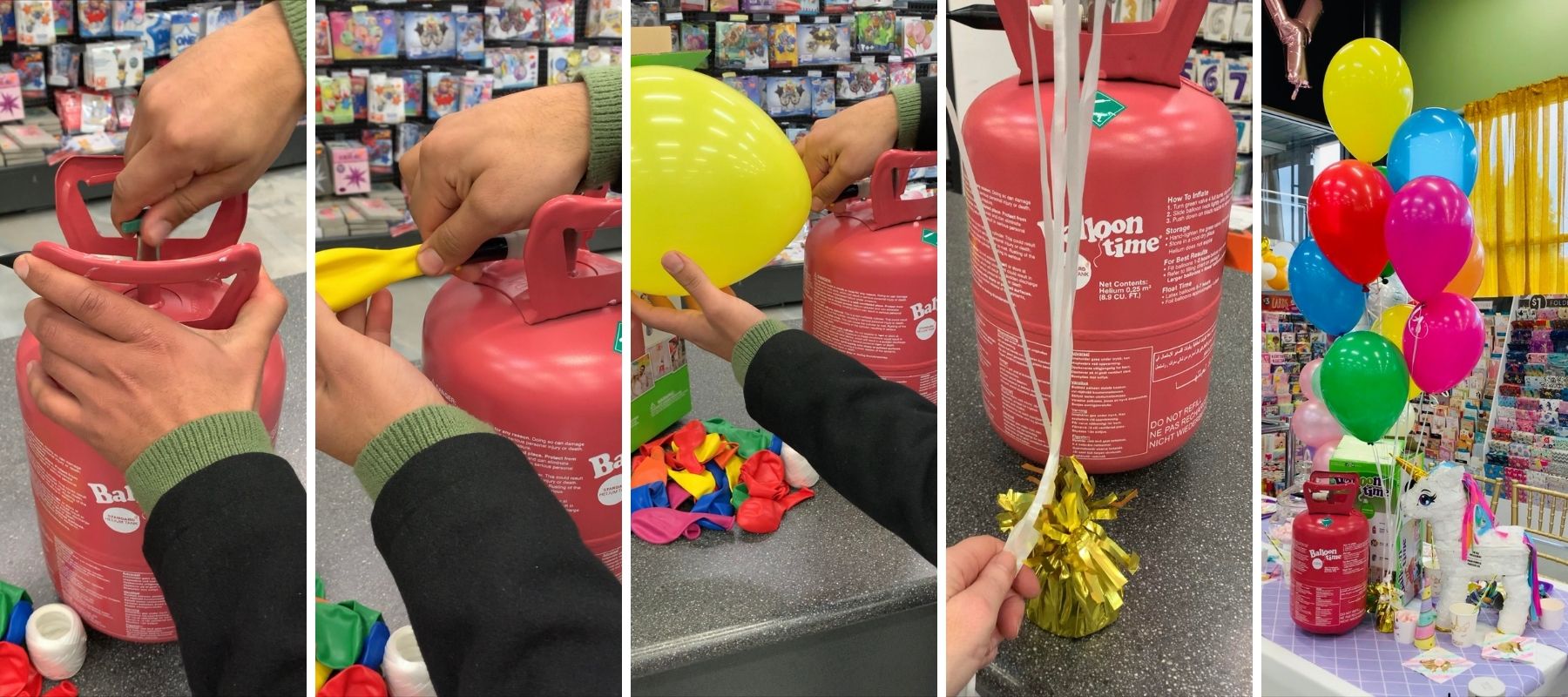 If you want you mix up your balloon arrangements, you can choose from our huge range of quality latex balloons or foil balloons to suit your party theme or occasion. Want a different ribbon colour? No problem, just choose one from our range of curling ribbons and add to your cart. And don't forget to choose your balloon weight - you don't want all your balloon work to fly away.
Please note - when using other balloons the capacity of each tank may be reduced as you are inflating larger balloons. Please use the following guide when inflating larger latex and foil balloons.
30 Helium Balloon tank - will inflate
13 to 16 x 30cm latex balloons
13 to 16 x 45cm Foil Balloons
50 Helium Balloon tank - will inflate
25 to 27 x 30cm Latex Balloons
25 to 27 x 45cm Foil Balloons
Latex balloons will stay afloat for 5-7 hours depending on the humidity and temperature, foil balloons will stay afloat for 24 to 48 hours. To extend the float time of your balloons try to avoid the sun and exposing them to heat. Remember to inflate the balloons 1-2 hours before your event starts for best results.
If you have left over helium, ensure the valve is closed and store in a cool, dry area to re-use at a later date. Tank disposal instructions are included on the box.
Never inhale helium, it can be harmful to your health.