Posted by Discount Party Warehouse on 26th Nov 2021
"Food grazing" has become the hottest term in food entertaining and catering. Food grazing has been around since roman times when the Emperors would laze around and feast on exotic delicacies like livers, brains and exotic fruits. The aim of the grazing platter is to make food look luxurious, irresistible and gluttonous. The grazing platter becomes the place where families and friends can gather to feast and enjoy each other's company. While this can be great at home, you can now create Grazing platters on the go with our great range of catering boxes – take grazing boxes to friends places, BBQ's , picnics or parties. Catering boxes are made from all natural corrugated, compostable cardboard and include lids with centred transparent PET sleeves to showcase your food. Good for the environment, saves you time and food looks delicious – it's a win all round.
Grazing boxes come in a variety of sizes and depths and your choice will depend on how many people you are catering for and what types of food you are serving.Just remember, they don't have to be savoury grazing platters, sweets and chocolates work just as well. We recommend our shallower boxes for serving pastries or sushi as the shallower depth prevents food from moving around.

Our smaller boxes are perfect for gift giving – create a perfect little food hamper for 2. Fill with your favourite cheeses, biscuits and fruit for a savoury treat or a range of dark chocolates, pastries and mini red wine or champagne piccolo for an intimate platter for 2.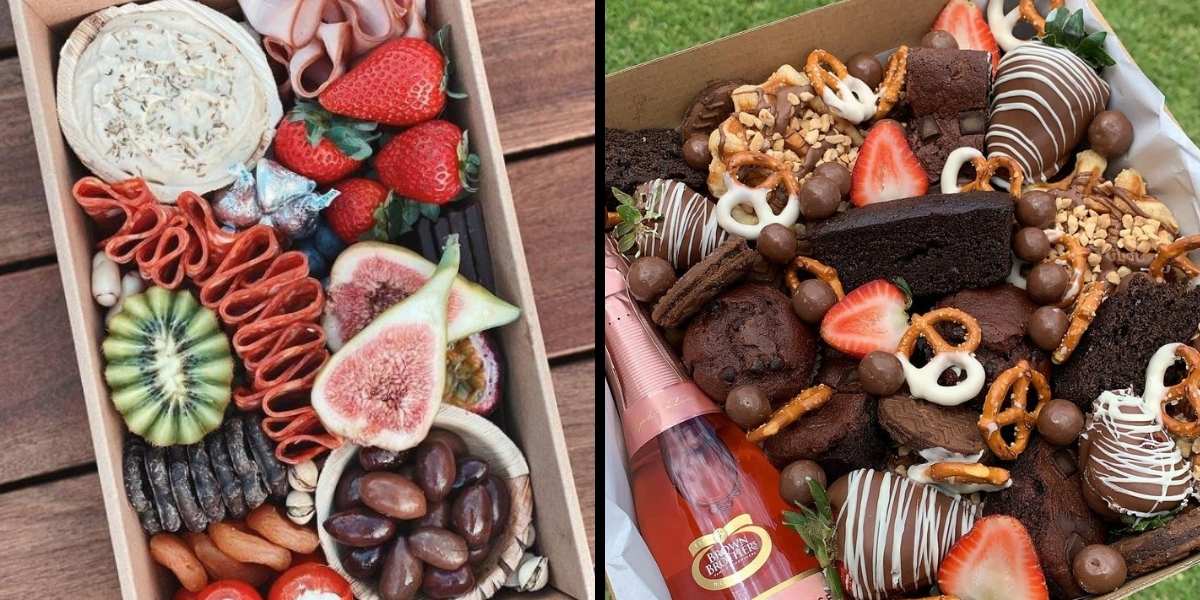 Medium size catering boxes serve between 4 and 8 people depending on the food. It is the perfect size for serving a variety of cheeses, pate, sliced meats, crackers and grapes. They also display pre-cut sandwiches perfectly, with the lid preventing the bread for drying out, allowing you to save time by keeping pre-prepared food fresh for longer.
If you have a large event or catering for a larger party we would recommend our large or extra-large catering boxes. Fill with pre-cut sandwiches and pastries for corporate events or desserts and cakes for high teas or even salads and pastas for big lunch groups. They make transporting food hassle free and can be stacked easily.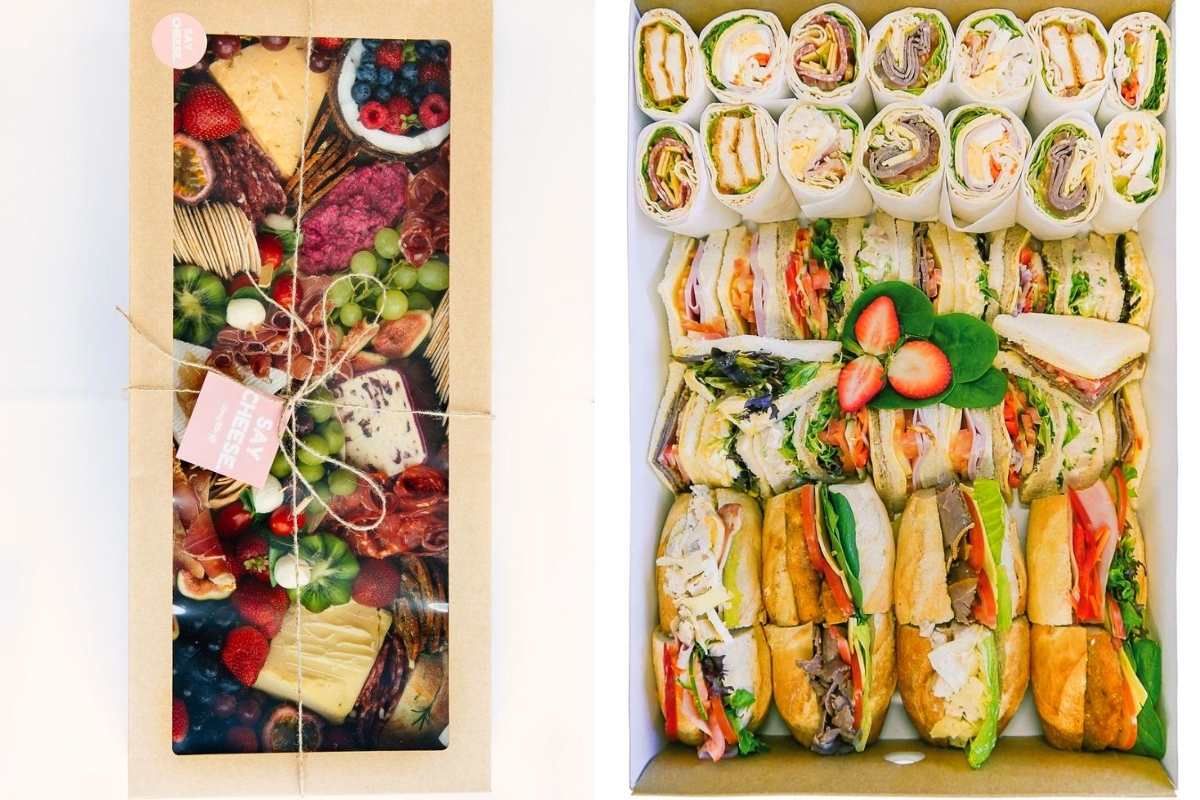 Top 8 Benefits of using catering boxes:
No more losing platters and bowls at friend places
Saves on water and washing up as the box bases are 100% compostable and the lids are 100% recyclable
Less use of non-renewable resources are used in the manufacturing of these boxes
Boxes can be stacked for easy transporting or when catering for large events
Displays food perfectly and prevents food from shifting when transporting
Create your own thoughtful, customised gifts
Great for promoting your own business – just add a logo sticker
Can be used for hot or cold food
It is more important than ever to care for the environment and leave behind a beautiful sustainable world for future generations to enjoy. With our great range of biodegradable and recyclable food packaging options all our food grazing platter dreams can come true.